Address: Zig Zag Road, Eltham
Design and construct: Outdoor Extension
Description: Our home extensions team at Hylton Constructions had the honor of working with a lovely client to build and design an outdoor pool area. Our client had a large amount of backyard space which was not yet utilised and was looking to create a pool area suitable for all ages to enjoy. Using our extensive experience with pool design and creation, we began to develop a plan for our clients needs.
We discussed our clients budget, vision and timeline for the construction of his pool and began to construct a few ideas based on the clients needs. Combining our team of experienced designers and suppliers, we created a draft of the pool design and details. We discussed our plan and recommendations with our client to ensure they were satisfied and took on board any inquiries they had. Having a family and love for hosting events was a big factor that we took into consideration for the design.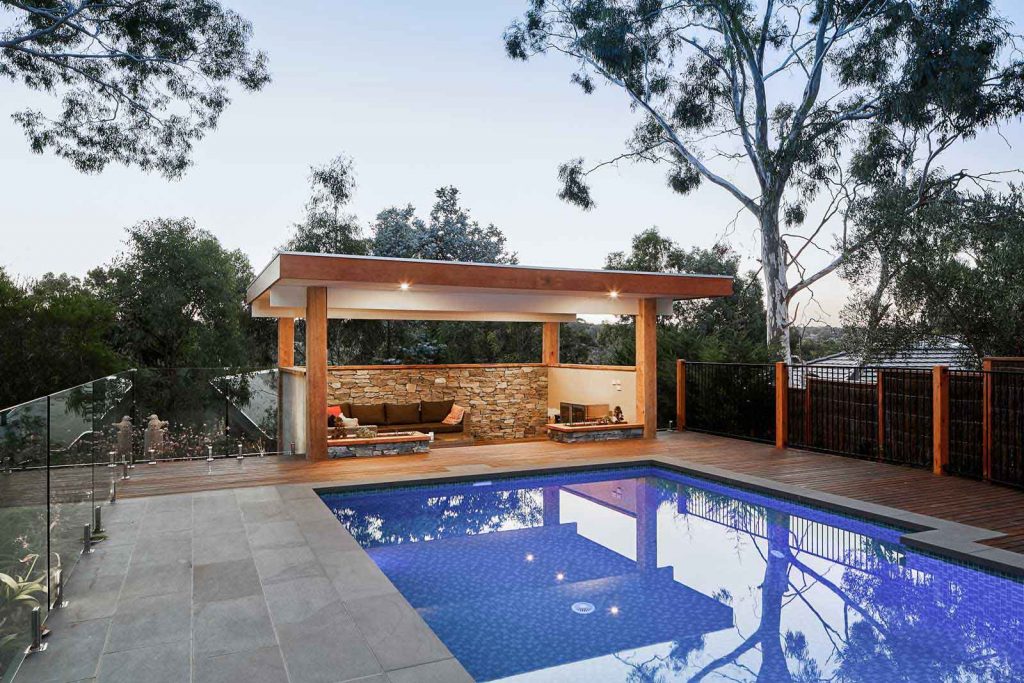 Our final product was an extraordinary work of art. Utilising the large space, we created a spacious pool with multiple water levels, suitable for all ages. A clear pool fence was selected, a perfect fit for both safety and design. Decking was used for the side of the pool and in front of the lounge area, easy to maintain and the ability to repel heat. Incorporating a sheltered area for parents to watch their children or to simply sit back and relax on a cosy Sunday afternoon, this area is perfect for all occasions. This area features a gorgeous stone wall, adding depth and character to the simple, yet sophisticated swimming area. The addition of built in lights creates a warm feeling and most importantly are energy saving, perfect for the long nights spent outside.
Here at Hylton Constructions, we have over 20 years of experience in a number of services including new homes, developments and extensions. We have a great relationship with local tradesmen, suppliers and real estate agents to produce the finest result for our clients. We are here to help with any project you may have, no job is too small or too big for us! If you are looking for qualified and experienced builders in Melbourne's Northern Suburbs and such as Preston, Eltham & Northcote contact us!