When you're planning for a house construction, there are a few pertinent things you need to consider – budget, location, hiring a contractor, getting all permits and licenses together, along with more. Once all the groundwork is in order, it's time to buckle up for the construction ride.
Building a home from scratch requires commitment. Frequently, important queries or milestones can be missed or confused along the way. So to help you through the process, our experienced team at Hylton Constructions have developed a comprehensive custom home building timeline which details all that you need to consider during the construction of your home.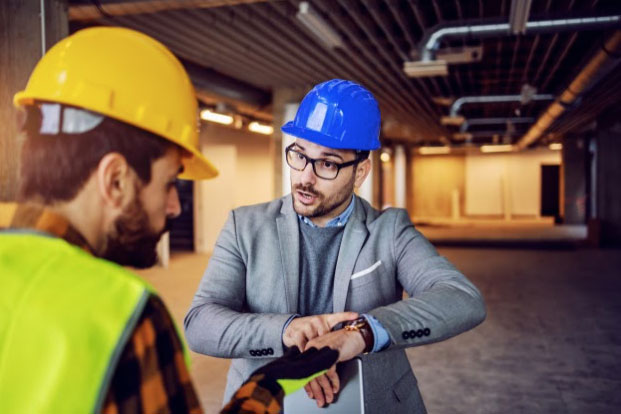 How Long Does it Take to Build a Home from Scratch?
When working with a skilled team of Melbourne residential builders, house construction usually takes between 6 to 9 months. However, the construction timeline for smaller houses with lesser details could take as little as 8 to 12 weeks. Meanwhile, a larger house featuring fancier details and requiring more owner involvement could take as long as 1½ to 2 years to complete.
Apart from the size of the house, numerous factors influence the length of the construction period. These factors often include budget (which we've addressed in our previous blog), location and builder.
Market conditions can also affect the time it takes for house to be constructed. Busy and highly active market conditions usually prolong the construction period, whereas a quiet or dormant market conditions can reduce the length of the building timeline. Weather conditions, the materials being used and availability of labour are also important factors to keep in mind when planning your house construction timeline.
[elementor-template id="2563″]
Which Time of Year is Best for Constructing a Home?
If you're aiming for optimal construction conditions with minimal delay, the spring season is the best to begin building your new home. The dry weather provides a prime environment for completing the foundation, along with framing and exterior detailing. These tasks should be completed before the weather gets excessively hot and workers take their summer vacation.
Once these activities have been completed, finishing the interior elements of the house can be conveniently completed during hot summer months. Conversely, the same process can be undertaken in Autumn. Whereby the foundations and exterior constructions are completed before the wet winter weather sets in.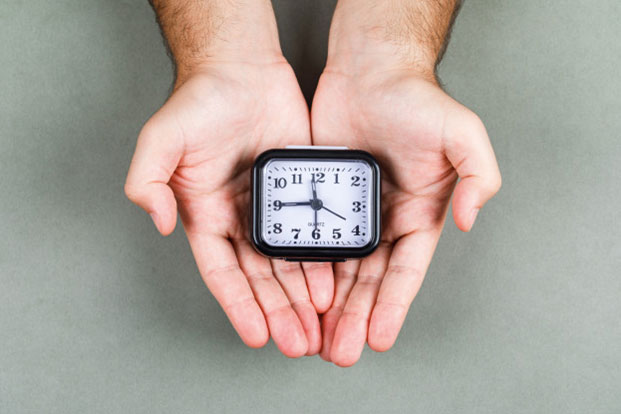 How do I Plan the Timeline for a House Build?
As mentioned in the previous section, there is no exact figure as to how long your dream house construction will take to be complete. However, if you develop a rational and practical plan for the construction time of your house, you can indeed plan a building timeline that will work well within your circumstances.
To do that, you'll need to address the various stages of construction, and account for the delays and unforeseen problems that might arise during the building process. If you're looking for expert advice about developing a building timeline, contact our experienced builders here.
[elementor-template id="2566″]
What are the Stages Involved in Building a New Home?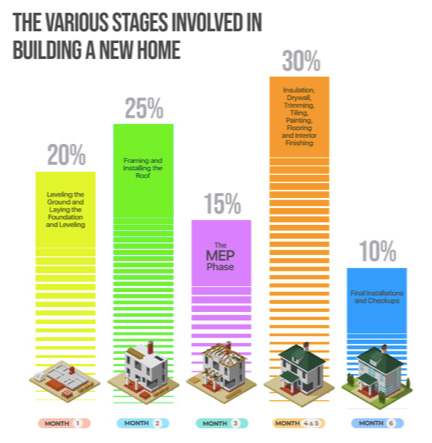 We've developed a monthly guide to help you understand the basic activities that will be undertaken during a general house construction process. We anticipate that after going through these step-by-step events, you will fully comprehend everything that goes on from the start of construction to finally moving in.

First Month: Levelling the Ground and Laying the Foundation
House construction officially commences by clearing the land of rocks, trees and any previously existing structures. This is followed by levelling the construction site to allow for adequate drainage. In the first week, your contractor will also fix the footings of the new home in the ground.
Next is laying the foundation, which generally takes about two weeks. The foundation can be in the form of a solid slab, a crawling space, or even a basement. This is the base on which your new home will be erected. Hence, it needs time to dry as to ensure that there are no cracks.
Laying the foundation involves pouring concrete onto the footings. Once dry, an inspection is performed before continuing the construction process.
Second Month: Framing and Installing the Roof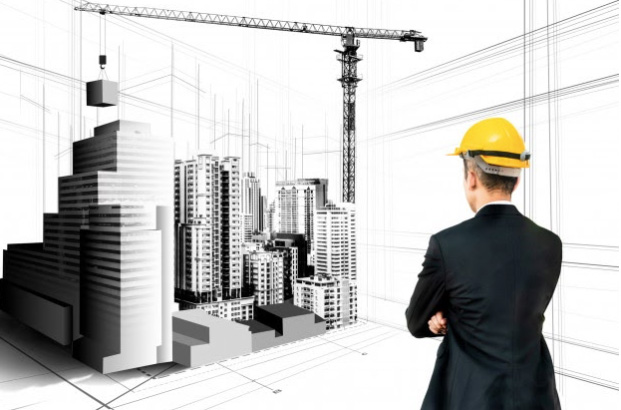 Now that the foundation of your house is in place, workers will proceed to erect the frame of the house. This includes exterior walls, floors and roof rafters. After all these areas are framed, sheathing will be applied to the roof and walls, along with a covering of house wrap. The latter helps prevent water from entering the house and allow vapours from the inside to escape.
Another inspection follows this before moving on to the next tasks. You can take a look at some of our completed projects for a better understanding of what happens during this phase of construction.
[elementor-template id="2569″]
Third Month: The MEP Phase
The MEP phase is the Mechanical, Electrical, and Plumbing phase. This involves installing wiring, pipes and sewer lines. A little siding work also takes place during this month, along with the installation of ventilation and heating systems.
This is also followed by a detailed inspection, ensuring everything is fitted and working appropriately, before moving on to the next step.
Fourth Month: Insulation, Drywall, Trimming, Tiling, and Painting
This symbolizes the half-way mark of your house construction journey. After all the MEP work is finalised, insulation is filled within the walls and ceilings to make sure your house is warm during winter and cool during summer.
Next is the fitting of plasterboard or drywall on the walls and ceilings. A primary coat of paint might also be applied during this time, which helps you visualize what the end product will look like – what joy!

Other tasks completed during these weeks by Melbourne residential builders include trimming around the doors and windows after the painting is complete, and some tile work in the kitchen and bathrooms.
Fifth Month: Painting, Flooring, and Interior Finishing
Here things tend to become exciting and also speed up a bit. Also, your involvement in the construction process will increase. Your house will begin to look and feel more like your dream home.
The contractor will now install the flooring. This could be ceramic tiles, hardwood, carpet or vinyl. This month also calls for the fitting of cabinets, doors and shelves. Your chosen carpentry will also be fitted. Any remaining trimming work on the floors will also be completed, followed by a second coat of paint.
Moreover, plumbers will continually work hard to install fixtures such as faucets, sinks, bathtubs, and toilets. Similarly, electricians will install appliances such as the microwave and oven, as well as your chosen light fixtures which will be ready to light up.
Sixth Month: Final Installations and Checkups
After all the interior work is complete and heavy furniture has been placed inside the house, your front door can finally be installed. This is also a good time to have a driveway and walkway made if it wasn't already laid down during the first month.
Other important milestones achieved during this month are as follows:
· The remaining exterior finishes are completed; the outside walls will be covered with stone, paint, brick or wall cladding as per your choice. To find out about affordable and attractive building materials, check out our blog here.
· The interior of the house will be cleaned and prepared for you to move in. Carpenters, electricians, and plumbers will each need a couple of days to get things neat and tidy after all their work is complete.
· With the interior all neat and shiny, week 17 is the ideal time for landscaping; plant beautiful trees and flowers, and get the grass trimmed. You can also add a small garden and enhance the aesthetic and natural appeal of your home.
[elementor-template id="2572″]
Obtaining a Certificate of Occupancy
Now that the entire construction work is complete, it's time to call the building inspector. They'll officially check whether your newly constructed home complies with building codes, and if there are no violations, you'll be granted with an occupancy certificate.
Congratulations! Your humble abode is now suitable for your inhabitance.
Final Touches
As the moving date is just around the corner, it's your final chance to call your builder and have them fix anything that doesn't seem right.
Make sure to conduct a detailed and comprehensive inspection of the whole house. Visit every room, operate every fixture, check every appliance, and keep making notes of the things that require revision or more work. Remember: now is the perfect time to point out any defects or damages.
Seventh Month: Moving In!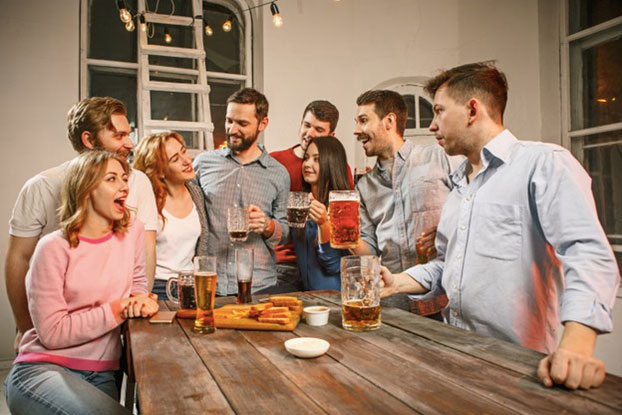 Hooray, the day you've patiently been waiting for has finally arrived! Your dream home is now complete and ready to accommodate your family.
Throw a house-warming party for your family and loved ones and show them around your beautiful abode. Kudos to a job well done!
Conclusion
We hope our custom home building timeline for your house construction will help you build the home of your dreams. Remember to regularly communicate with your builder, building a healthy working relationship with all involved parties will lead to a smooth and satisfying construction process!

Visiting this blog is a great start but you should endeavour to continue your research. We have published a series of blogs to help expand the knowledge of all that are planning to buy, build or both – you can view the rest of our blog series here.